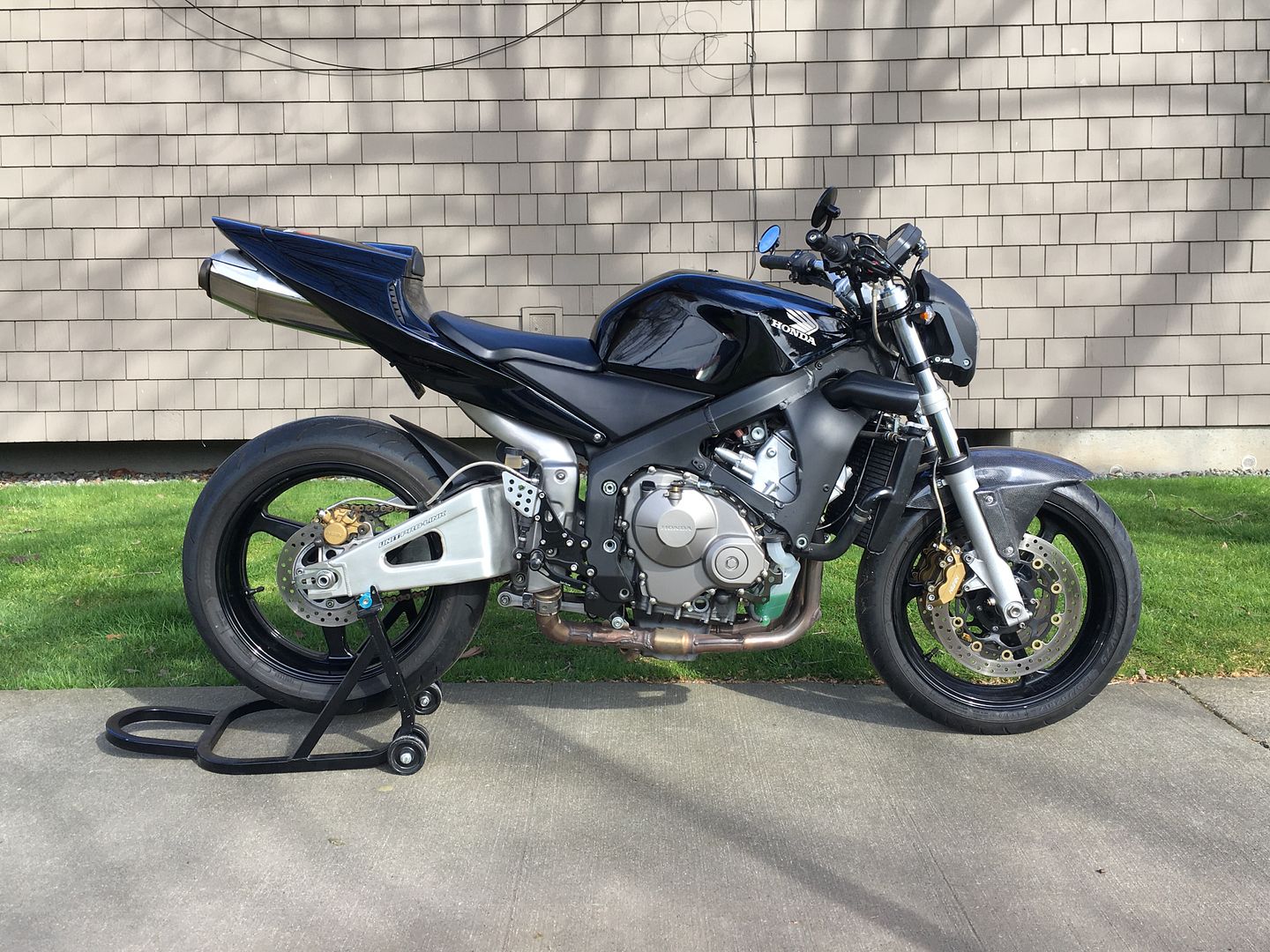 $7500
I'm selling my '600RR I built 3 years ago. I made it the best I could without regard to cost or time/effort. I've been having "tryouts" for the last year with a 1st gen Ducati 1100S Hyper. The 'duc won by the slimmest of margins.
4750 miles. Clean title. More pics here:
https://seattle.craigslist.org/see/mcy/6055834872.html
I built this bike in 2014 over the course of 4 months. I have always wondered why Honda never offered a naked version of a true supersport machine. My goal was to create a bike with factory (or better) levels of fit & finish. This project was approached with no budget as far as dollars spent or time/effort required.
I started with a clean title/1 owner (I'm owner # 2) 2004 '600RR with 3k miles. The 1st owner (a personal friend) had witnessed a family member of his crash the bike into a ditch damaging the fairings and lights. No insurance claim or police report were filed. He patched it together with tape and bailing wire to make it rideable although from then forward it was essentially unused until I bought it and re-made it.
In 2006 the bike went into 8-year indoor storage until I happened along in 2014. After stripping away the damaged main upper and mid fairings/lights, the rest of the bike was mint.
For what it is worth, I was drawn to the 1st gen '600RR (2003 or 2004 model year) due to the fact it has conventional (right side up) fork legs. For a naked bike I much prefer the appearance compared to the upside down units found on 2005 and later versions.
The build sheet is more or less as below. Every part or component sourced for the build was purchased brand new.
LSL headlight kit from Spiegler USA. This kit comes with an extra integrated running light above the main headlight. I replaced the supplied running light with an orange led bulb for a different look.
LSL handlebar conversion from Spiegler USA
Sato Racing billet rearset foot controls. Installed in the lowest, most forward position. Also I eliminated the brake light activation switch from the rear brake lever.
Stock rear brake fluid reservoir bracket deleted from the rear subframe. Custom bracket fabbed that mounts the reservoir to the right side foot peg bracket. New Ducati/Brembo fluid reservoir in place of the original.
Spiegler USA braided rear brake line to match the braided front lines that came with the bar kit.
ASV billet clutch and front brake levers
Carbon fiber front fender
Honda oem rear seat cowl in black. The rest of the bike (tail section and tank cover) was professionally painted to match.
Silver oem Honda wing decals on tank cover (not cleared over)
Vintage oem Honda wing decal on rear seat cowl (not cleared over)
Aluminum mounting bracket custom made by a long time friend/fabricator for the instrument cluster. I had it offset so the tachometer portion of the cluster is exactly in the center of the rider's view. Since I deleted the ignition key I was able to position the cluster much further back than its original position which makes for a much more compact overall package. Incidentally the cluster was not damaged when the bike fell over years ago. This is the original cluster and the displayed odometer reading is the actual mileage.
oem Honda engine covers
Modified (shortened, hidden) wiring harness
Ignition key/switch/steering lock deleted
Regulator/rectifier wires extended to fit unit under rear seat cowl
520 D.I.D./Renthal chain/sprocket conversion (stock 16/43 gearing)
Countershaft cover has been relief cut to expose the sprocket. Afterwards I learned the forum world has labeled this the "Nicky Hayden" mod. I had no idea about any of that... however I do like the way it looks.
Oberon billet bar-end mirrors
LightTech billet racing keyless gas cap from OPP Racing
Custom black paint by Brian from SikWerks to perfectly match the oem Honda rear seat cowl. Brian also trimmed the fuel tank cover since it no longer attaches to side fairings.
Front turn signals/brackets from Spiegler USA
TST Industries led rear tailight with integrated signals with their replacement turn signal relay for a normal blink rate.
TST Industries license plate bracket. I did not install a license plate light.
Avon tires
MotoBatt battery (new in 2016)
New oem Honda radiator overflow bottle. There was nothing wrong with the original other than it did not look like new and was no longer hidden by the fairing.
Stock ram-air tubes shortened/reshaped with custom mounting brackets fabbed up for each side. This one small detail took a long time to get "right" in my eye. Without the fairing the tubes are on stage front and center. They were not designed by Honda to have any sort of aesthetic appeal.
Ducati 996 battery overflow tube routing bracket modified to hold the idle adjust knob in place.
Last year I stole the horn unit from this bike for something else I was working on. So now the '600RR has a new oem Honda horn.
You don't need a key to operate it. The "on/off" kill switch does it all. Since the ignition circuit has a Zener diode incorporated into it this modification took a lot of skill/brain power (my friend's, not mine lol) to carry out. It works flawlessly... all bikes should be like this. Its too bad this world is full of scumbag thieves.
I never added up completely how much $$$ I spent on this bike. Nor did I figure out how many hundreds of hours I spent on every detail. That would be depressing.
The engine/exhaust/suspension are 100% stock and unmodified.
This bike is as-new in essentially every way. Rides like new. Looks like new. I obsessed over every nut, bolt, fastener, etc., in terms of both function and appearance.
Keep in mind it is a "toy". You don't need a key (anyone can walk up to it and start if they know how) and the steering cannot be locked.
I do not have a back seat or passenger pegs. Those items could go back on if the next owner sourced them.
call or text 206 369 4879